Hello Broncos Fans!
Going into training camp, this Broncos team has a lot of new, unfamiliar faces on the roster. In order to help the average fan get acquainted with the layout of the roster, I am ranking the Broncos 90 man roster pre-training camp. Keep in mind, that IR players (ahem, Ryan Clady) will not be included on this list. If you have any disagreements with my rankings, let me know.
Today I will be ranking players 20-11. These guys are key starters, or plus rotational guys. They are that next tier of player, who are maybe fringe pro bowlers but aren't the consistent star performers of the top 10. This is the group that makes or breaks a team however.
---
20: Sylvester Williams, Nose Tackle
A lot hinges on Sly's performance in 2015 for the Broncos defensively. The career under performer will be asked to play Nose Tackle, a vital position in Wade Phillips' 3-4, in 2015. I believe that Williams is in for a career year. For starters, he has all the talent in the world. The 315+ pound mammoth ran a 5.03 forty at the combine. That is freak level talent. Let's also remember that defensive tackle is a position which first round picks have historically taken some time to develop. Not everyone can be Ndamakong Suh and get 10 sacks as a rookie. I admit, this high score on Williams is 100% projection. I believe that he could hit this and even land higher than this on next year's list. He's just got to put it all together.
---
19: Vance Walker, Defensive Lineman
One of the Broncos' many under the radar free agent signings this offseason, Walker figures to challenge Derek Wolfe for the Left End spot. Wolfe has the current edge, but don't count Walker out. The 28 year old is a 6'2, 305, balanced defensive lineman. He is sneakily athletic, and was underutilized to an extent in Kansas City. His real plus however, is his experience at all three lineman spots in a 3-4 defense. He has played both end positions, as well as nose tackle. So, whether he beats out Wolfe or not, he should still figure to get playing time due to his versatility as a backup.
---
18: Derek Wolfe, Defensive End
Wolfe has had a rocky start to his NFL career. After a good combine and a stellar career at Cincinnati, Wolfe enjoyed a good 6 sack rookie season. Through 11 games of his sophomore season, we saw more of the same from the defensive lineman, as he recorded 4 sacks. Then, things began to go awry. He suffered a seizure in November, and was knocked out for 26 hours straight. He then woke up in a hospital bed, which he broke, in a panicked daze. He had no idea where he was. His nervous system continued to shut down, and he lost over 20 pounds in about a week. A scary spine injury in preseason, which had all but been forgotten at that point, hadn't completely healed. It had messed up his nervous system, almost beyond repair, and he was lucky to come back from that. He was able to start 16 games in 2014, but his pass rushing burst has seemingly vanished. He only recorded 1.5 sacks. He was still a stout run defender last year however. Hopefully his lack of burst was just a product of the injury, and he can be back at full force in 2015. His 6'5, 295 pound frame is perfect for a 3-4 end, and he should benefit greatly from the scheme switch.
---
17: Owen Daniels, Tight End
As a veteran, Daniels is as savvy as they come. He has enjoyed a very productive career, as a quick, route running, receiving tight end. The 6'3, 245 pounder is also an underrated blocker. He needs to stay healthy however. He hasn't played a full 16 game season since 2008. At 32, that is unlikely to change anytime soon. Still, Denver is fairly deep at tight end, so he won't need to be the feature guy. He should however be good for a couple of clutch catches and big plays, the likes of which he has shown he can make throughout his 10 year career.
---
16: Virgil Green, Tight End
Green's an undersized, athletic, pass-catching tight end / H-back with big-play potential who doesn't bring much to the table as a blocker. Has good burst off the line and doesn't idle down in and out of his breaks but is susceptible to press coverage and doesn't exhibit great awareness against zone coverage. Possesses outstanding ball skills
That was the NFL.com combine player profile on Virgil Green coming out of college. That seemed to be the consensus on him. A fast (4.64 forty) tight end who lacked size to be an effective blocker. How wrong we all were. Green has been used almost exclusively as a blocker since coming out of Nevada in 2011. We had receiving tight ends like Julius Thomas and Jacob Tamme, we only lacked a true blocker. Green stepped up into that role, and was practically a sixth lineman whenever he was on the field last season. The receiving ability he showed at Nevada doesn't just vanish however. With Julius out of town, this new coaching staff will ask Green to contribute more as a pass receiver. He has the talent to do so, and if he can step up, he will be one of the more complete tight ends in the league in 2015 and beyond.
---
15: Darian Stewart, Free Safety
Stewart (26) was probably the most underrated signing of our 2015 free agent class. He runs the forty in 4.53 seconds, and has been a solid contributor in Baltimore. He gained a plus 3 rating from PFF, and is just scratching the surface of his potential. Hopefully our days of seeing our free safety disappear for long stretched of games are over. Stewart has the makings of a playmaker at safety.
---
14: Bradley Roby, Cornerback
I have been outspoken in my support of the second year corner out of Ohio State. He is fast and aggressive, and he has already shown he knows how to make plays. I loved everything I saw from his in 2014, and if he can refine his technique just a tiny bit, he has all the tools to be a shutdown corner. I expect big things from him in 2015.
---
13: Danny Trevathan, Inside Linebacker
Danny Trevathan (new kneecap and all) should be in for a big 2015. Phillips has always valued smaller, faster inside linebackers in his 3-4, and Trevathan fits the bill. A great coverage linebacker as well as a decent run stuffer, Trevathan just needs to stay healthy. His injuries have been well documented, but his talent still justifies his ranking here. He will be a key player on a great Broncos 2015 defense.
---
12: Louis Vasquez, Right Guard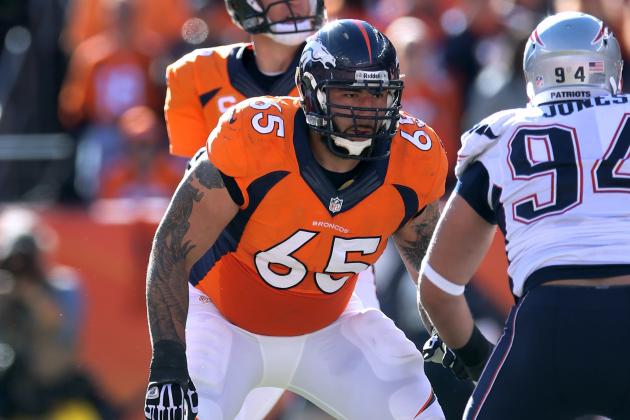 As of today, Louis Vasquez is the only thing keeping the Broncos from total disaster in 2015. An inexperienced, unknown line besides the lone veteran presence, Vasquez. He can captain this line to great things in 2015 hopefully. He has been an All Pro in his 7 year career, and that should continue in 2015. The question really is whether or not the rest of the line will play up to his level; we all know Vasquez will perform well.
---
11: Aqib Talib, Cornerback
I have not always been super high on Talib, but he is probably the best number 2 corner in the NFL. Yes, he gives up a lot of big plays. Yes, he was picked on a whole lot in the divisional round against Indy. He is also probably the most consistent ball hawk in this secondary. With Harris rarely being thrown at, because, you know, he's Chris Harris, Talib has a lot of passes thrown his way. He is a tall, natural playmaker with ball skills to boot, as evidenced by his team leading 4 interceptions. He completes arguably the best corner duo in the league, and contributes to what is, in my opinion, the NFL's top secondary. Opposing Quarterbacks are going to have a tough time in 2015.
---
All right, thanks for reading. Please voice any disagreements in the comments section. I probably won't get the next (and final) edition in tomorrow, seeing as I am traveling, but I will have that in soon.
In Elway we trust, go Broncos.