Hello Broncos Fans!
Going into training camp, this Broncos team has a lot of new, unfamiliar faces on the roster. In order to help the average fan get acquainted with the layout of the roster, I am ranking the Broncos 90 man roster pre-training camp. Keep in mind, that IR players (ahem, Ryan Clady) will not be included on this list. If you have any disagreements with my rankings, let me know.
Today I will be ranking players 10-1. This is obviously the final edition, so I may pin a 90 man ranked roster, which I will naturally update when cuts occur, at some point in the coming week. It may be useful to create a general info pin, which would include current roster, depth chart, schedule, and a free agency tracker. I think I will be creating that in the upcoming week. Anyways, this is obviously the top 10, so these guys are the team's stars. They need to perform well for the team to perform well, and can carry lesser players.
---
10: Brandon Marshall, Inside Linebacker Marshall, who led the team in tackles last season, was an absolute starters. A PFF secret superstar, Brandon Marshall could be even better this upcoming season. One of the best coverage linebackers in the game, who is also a stout run defender, Marshall has the athleticism to be a seamless fit in the Phillips 3-4. He has also emerged as a consistent leader. Marshall is the type of player you need on defense, and while he may always be overshadowed by that Brandon Marshall, he is the better player in 2015.
---
9: Malik Jackson, Defensive End
Jackson seems to be a perfect fit for the 3-4. He is 6'5, 290, so he has length and strength. He also has rare burst for a big man, and was PFF's number 3 4-3 end last season. With more playing time, he could develop into a top 5 3-4 end for years to come. You need his athleticism on any defensive line, and while he does not play a stat grabbing position, he will make his mark.
---
8: T.J. Ward, Strong Safety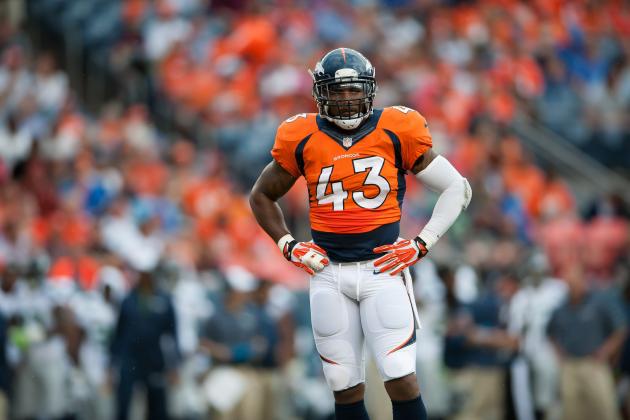 T.J. Ward is a tone setting, do it all safety that every defense desperately wants. 2014 was a bit of a let down, although he did still make the pro bowl. Too often I saw Jack del Rio drop Ward into a cover 2. Ward is meant to be a chess piece who can move all over the field making hits. We need to use him more like a playmaking Polamolu type, and drop him deep less. Phillips is known for putting his talent in the best position to succeed, so Ward will make plays in 2015.
---
7: DeMarcus Ware, Outside Linebacker
Ware was probably the most difficult player to rank on this entire list. The Hall of Famer recorded 10 sacks last season. He did slow as the season progressed however, and is not getting any younger. I think his wearing down was the result of overuse. A 32 year old pass rusher should not be playing most of a team's defensive snaps. As he switches to a more rotational role with Ray, I predict that a reinvigorated Ware will top his 10 sack number in 2015.
---
6: Emmanuel Sanders, Wide Receiver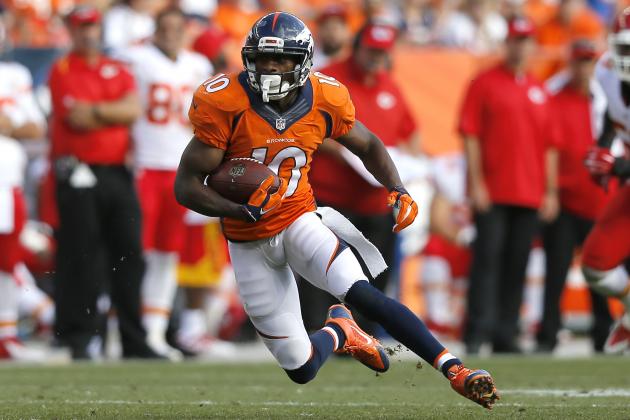 It seemed that whenever Denver needed a big play down the stretch in 2015, it was Sanders who came through to make that play. When he was signed as a free agent last offseason, we all knew he was fast. We all knew he could run a route. What no one seemed to know however, was that Sanders has serious hands. I do not remember any memorable drops from his last year. Whether he was being hit hard, or had to leap, Sanders has an uncanny ability to pull in a tough pass. I see no reason why he cannot continue his stellar play in 2015.
---
5: Peyton Manning, Quarterback
Ranking Peyton was a difficult task. If the quad injury explanation for his poor play is true, and he is once again stellar in 2015, he could jump as high as number one on this list. If last season was indicative of future play however, he could fall all the way into the 20s. There isn't much to say about Peyton that hasn't been said already. He is still the man at quarterback. The question lies in whether or not the body is as willing as the mind is.
---
4: C.J. Anderson, Runningback
C.J. Anderson is one of my absolute favorite players on this roster. An argument can be made that he was the best runningback in the NFL for the final eight games of last season. He is also a fiery competitor who will not let himself be a one year wonder. All his production came behind a shabby offensive line as well. I cannot wait to see what's in store for Anderson this year.
---
3: Demaryius Thomas, Wide Receiver
Demaryius has drawn some unnecessary ire from Broncos fans. Yes, he is holding out as of now. Is that really something to fault him for however? He's not Dez Bryant, I don't see him threatening to miss regular season games. He simply feels like his other worldly production has warranted a pay day. I have trouble arguing with that. He has been our most consistent offensive weapon since he broke out in 2012. Can you blame him for wanting to get paid?
---
2: Chris Harris Jr., Cornerback
Let me start by saying this; Chris Harris Jr. is 1B on this list. Him and Von Miller are neck and neck, and I have trouble placing either above the other. To say that if Harris continues on his current pace he will be wearing a gold jacket in Canton someday is no understatement. I know, PFF is not the be all end all for talent. But Harris did not allow a single touchdown last season. He moved all over the field, from slot to outside, and shut down whoever he went up against. It did not matter. He also is a team captain and an all around good guy. Plus he did all that less than a year removed from a torn ACL. I see no reason why he cannot continue to be great for 10+ years. Not bad for a college free agent.
---
1: Von Miller, Outside Linebacker
When I sit back in my recliner on Sunday afternoons this fall, I will be donning the orange number 58 jersey. Von is a generational type talent. If you looked at his combine numbers, you would assume that he was a first round caliber wide receiver. When a player has freaky speed, strength, and instincts, you get Von Miller. The really terrifying thing, is that Miller has been one of the best players in the league playing out of position. Now, when we put him in a system tailored perfectly for his strengths with a great supporting cast, the sky is literally the limit for Miller.
---
I really hope you enjoyed this list. I know I have been somewhat rigorous with content lately, but seeing as I am on vacation with family in Montana, without reliable internet access, my posts will be a little more sporadic.