Hello Broncos Fans!
Going into training camp, this Broncos team has a lot of new, unfamiliar faces on the roster. In order to help the average fan get acquainted with the layout of the roster, I am ranking the Broncos 90 man roster pre-training camp. Keep in mind, that IR players (ahem, Ryan Clady) will not be included on this list. If you have any disagreements with my rankings, let me know.
Today I will be ranking players 40-31. These guys are low level starters or solid depth players, and, barring an unforeseen drop off, will make the 53. They should also be contributors come game time.
---
40: Jordan Norwood, Wide Receiver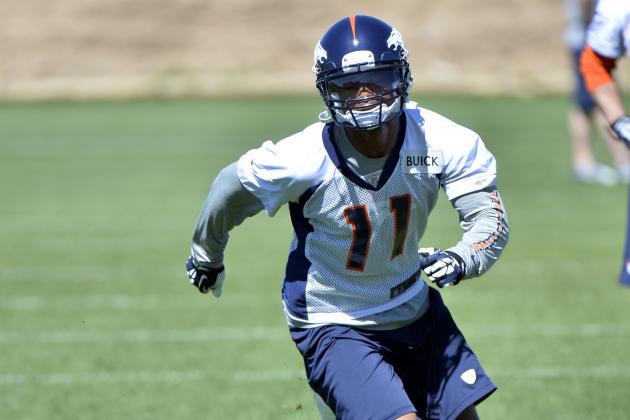 The former Penn St. standout was showing promise as a punt returner until a torn ACL ended his 2014 season. Entering his 6th season in the league, Norwood could push Andre Caldwell off the roster, as an experienced slot option with decent return skills. This will be his 4th team, despite only being 28, so he does have a lot going against him. Reports have been very positive, and he looked good last year, so I think he'll stick this season.
---
39: Michael Schofield, Tackle No, not Michael Scofield, one of the leads on the show Prison Break. Schofield, a third round pick, did not see the field much in 2014, apparently not at NFL play strength. This may have just been a product of Fox's perplexing refusal to play rookies, but either way, Schofield has gained weight and is ready to compete. He will be fighting Ryan Harris and Chris Clark for the starting right tackle job next year. Schofield figures to be one of the players who will gain most from the switch to the ZBS, as evidenced by his excellent 5.01 forty yard dash time, despite being over 300 pounds. His 2015 figures to be boom or bust, with starting potential, but also the possibility of another year like 2014. The sample size is just so small. In the end, the truth probably lies somewhere in the middle, with Scho projecting as a top notch swing tackle in 2015.
---
38: Juwan Thompson, Running Back
Juwan Thompson's impact in 2015 all comes down to how the coaching staff chooses to use him. He could slide over to fullback and bulk up, or he could continue to see a hybrid reserve halfback role next season. He showed plenty of talent in that role last year. He's a bigger back, who can be excellent in goal line situations. He also has an infectious hard nosed personality, consistent with many of Denver's recent UDFA gems. It's worth noting that Kubiak has played with a wide variety of fullbacks, but that they have all been able to run and catch, two things Thompson does well. I'd like to see him take the job, but until he does I can't put him higher than 38. He could definitely climb into the 20s with a strong 2015. All in all, he seems like the most recent college free agent steal by John Elway.
---
37: Max Garcia, Center
Good coaches adapt to talent. Is anyone suggesting that athletically challenged Louis Vasquez will play poorly in 2015? No. So, if a very talented lineman is available in a later round, a system versus talent equation is brought up. A staff needs to ask themselves, is this player talented enough to where we can overlook their poor scheme fit? I'm sure the Broncos' brass asked themselves this question before pulling the trigger on Garcia. In my opinion, Garcia was an absolute steal in the late 4th. For starters, Garcia is a talented road grader with rare weight room dedication. He also shows solid technique in the running and passing games. His on field talent isn't even why I think he was such a great pick however. Garcia is a great personality to have in a locker room. Every report from Florida players and coaches were completely gushing, and he was also a fan favorite. If you go to his twitter, you'll see a combo of retweets of former teammates and strange non sequiturs. He has experience at all five line positions. Unfortunately, Manning's pre check complications make starting as a rookie center very difficult. While I would love him to prove me wrong, projecting Garcia as a rookie starter is unreasonable. He will however be an excellent backup at all 3 interior positions, who should start at center in 2016.
---
36: Gino Gradkowski, Center
All I can say about Gradkowski is that hopefully Doc's right about Gradkowski mainly being a mentor for Paradis. Gradkowski had a terrible 2013, only to be benched for 2014. While you can say that Kubiak knows what he was trading for when he went and got Gradkowski, Kubes was also the one who benched Gino in 2014. Only time will tell if he's taken major strides however. I for one, am not optimistic.
---
35: Matt Paradis, Center
Paradis's story is similar to Michael Schofield's. He was stashed on the practice squad in 2014, and did not see the field. It's hard to write him off however, because Fox rarely liked playing rookies. Paradis did need to gain strength, but he's apparently done that. He's up over 300 of good weight, and has a thick Center's build. Hopefully he has the mental game locked down, and can solidify the position for 2015 and beyond.
---
34: Karl Schmitz, Punter
Schmitz, a 28 year old native of Bermuda, appears to have the early edge in the Broncos punting competition. He is a strong legged former soccer player, who can kick off as well as punt. His highlight video is crazy, but there have been many youtube specialists who couldn't convert that talent into on field play. I'm rooting for Schmitz though, because if he can take away Britton Colquitt's cap hit and free up Brandon McManus's roster spot he is a star in my eyes.
---
33: Omar Bolden, Defensive Back
Bolden has been one of Denver's more steady depth/special teams players since being a fourth rounder in 2012. A speedy player, Bolden has been criminally underutilized as a return man. It seems like he's been good for a big return every year since he's been in Denver, and yet has rarely gotten opportunities in that area. Hopefully with a new staff in 2015, he'll get more return opportunities with an open spot at the position. I personally believe he would make the most of those opportunities. Either way, he should continue to make plays on defense and special teams.
---
32: Ryan Harris, Tackle
Guess who's back, back again
Shady's back, tell a friend -Eminem
Ryan Harris is a Broncos again, now wearing number 72, after leaving via free agency in 2011. He played his best seasons in Denver, but had a career renaissance starting at right tackle in Kansas City in 2014. He has had injury issues his whole career, and I haven't always been high on him, but he's a good player to have on your roster. He provides a veteran presence sorely missed on this Offensive Line, and, assuming none of the young players step up, can be a decent spot starter at right tackle.
---
31: Montee Ball, Running Back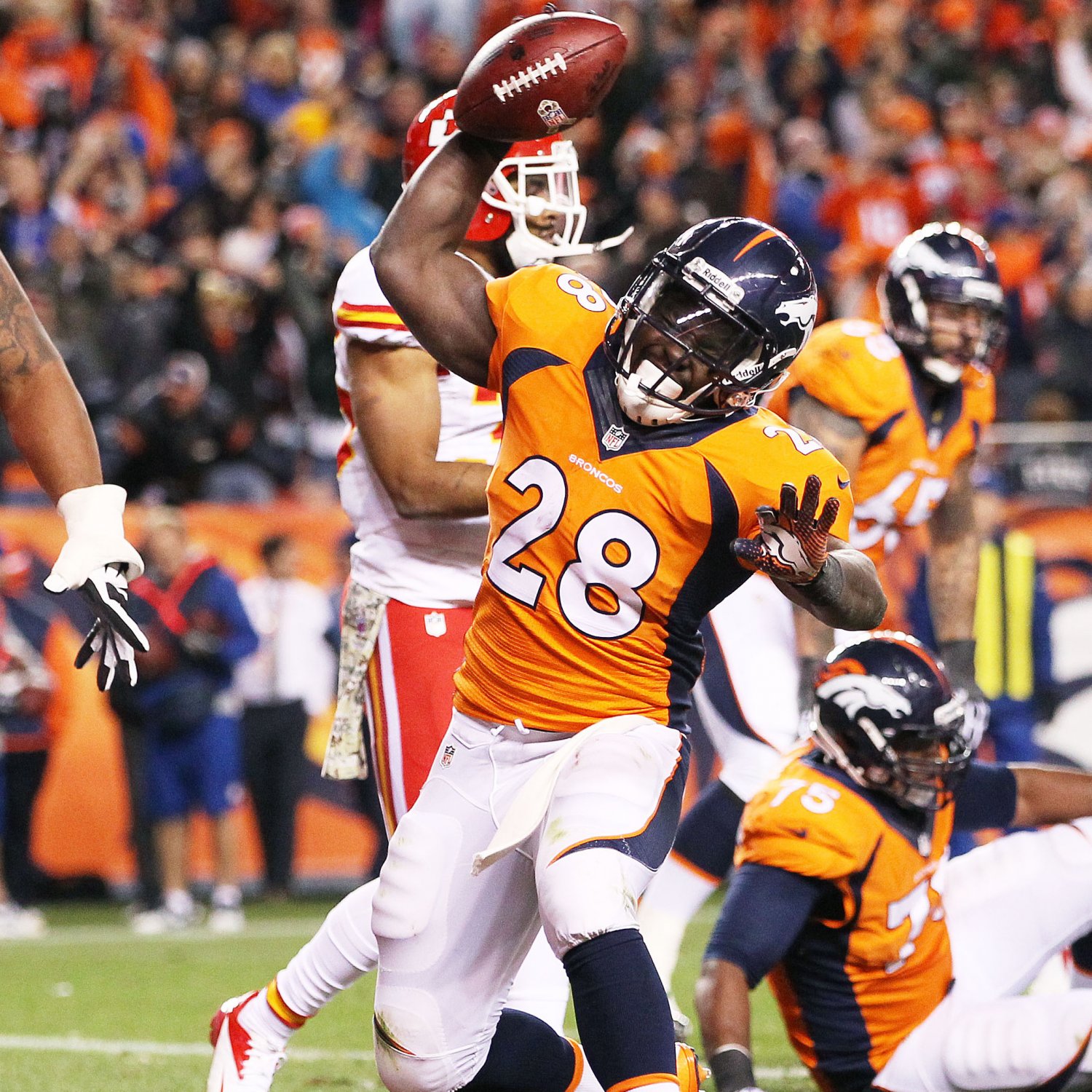 Never have I been more wrong about a player than I have been about Montee Ball to this point. I don't know if it was his NCAA touchdown record, his funny off field personality, or his beasty sports science feature, I was hype to get the former Badger in the second round in 2013. Unfortunately for Ball, he has played his way out of starting consideration after a promising rookie year. In fairness to Ball, I have a biased view on him after spending my 1st round fantasy pick on him in 3 separate leagues. Not to brag (but kinda), I still won 2 of those leagues, but he still had an infuriating 2014. He still has potential and talent however. The man ahead of him is obviously unbeatable (as you'll see when I do the top 10 Broncos), but Ball can prove to be an excellent second back with a good 2015. He has a lot of competitive fire, and I hope he can succeed this season.
---
Thanks for reading. I'll count down players 30-21 Monday at some point most likely.
In Elway we trust, go Broncos.