Hello Broncos Fans
Going into training camp, this Broncos team has a lot of new, unfamiliar faces on the roster. In order to help the average fan get acquainted with the layout of the roster, I am ranking the Broncos 90 man roster pre-training camp. Keep in mind, that IR players (ahem, Ryan Clady) will not be included on this list. If you have any disagreements with my rankings, let me know.
Today I will be ranking players 50-41. These are the guys, who barring someone else below them outlaying them, are on track for the 53. The jobs for these players are far from guaranteed however. Certain positions, like Linebacker and Running Back have so much depth, that a lesser talent at a different position may make the roster over some of these guys.
---
50: Kyle Williams, Wide Receiver
The Kyle Williams story is not a happy one. In the 2011-2012 season, Williams, who had finally bucked his early career injuries, was emerging as a speedy big play receiver and return man on a loaded Niners' team. He scored three touchdowns, and improved as the season progressed. In the divisional round of the playoffs, Williams made the key block to spring Alex Smith's famous 28 yard touchdown run in the come from behind victory. And then, disaster struck. Williams muffed two punts in the NFC championship, losing the 49ers the game. While the team said the loss wasn't his fault, they quietly released him that offseason. The Chiefs picked him up, and he has since bounced on and off injured reserve for them. Now, he's a Denver Bronco. Orson Wells once said:
"If you want a happy ending, that depends, of course, on where you stop your story."
The talent is there for Williams. He's still only 26, although he's seen more than 26 years of adversity, and I'm picking him as a sleeper to make this team. With his underrated receiving ability, and his athleticism on kick returns, he's got a solid shot. Everyone loves an underdog.
---
49: Steven Johnson, Linebacker
Notice that there are three linebackers ahead of Johnson. There is only a hair separating any four of these guys, and with a new coaching staff, none have any sort of a special leg up. Only two, or at most three of these linebackers will make the team behind Trevathan and Marshall. This will be an interesting position battle. As for Johnson, he has been a special teams standout in his time in Denver. With the depth at backup linebacker however, Johnson will need to become a defensive standout as well.
---
48: Lamin Barrow, Linebacker
I think much of the criticism on Barrow was unfair. He was a fifth rounder last year, who was said to be raw, and yet many Broncos fans were upset that he wasn't a contributor from day one. That is an unfair expectation to place on a 5th rounder. He's a good athlete who needs to contribute now that he has a years coaching under his belt however. The tools are there, it's just a question of intangibles. If he can put it all together, he can be an excellent backup this year, and maybe more with Trevathan's expiring contract in 2016.
---
47: Corey Nelson, Linebacker
Corey Nelson may be the most underrated player on the Broncos. Charlie Campbell from Walter Football did an excellent pre draft profile of him. He was an athletic contributor at a top school, Oklahoma, who fell to the 7th round due to a torn pectoral muscle. This is with good cause, since most players don't come back from that type of injury. Nelson did. Last season I saw a raw, athletic linebacker with a nose for the football. He didn't get on the field much, but he outplayed Barrow and Johnson when he did. I'm not writing him off. In my opinion, Nelson will be the fourth ILB on the roster.
---
46: Todd Davis, Linebacker
The Broncos have some really tough decisions to make when it comes to reserve linebackers. Davis, a midseason rookie pickup, was an absolute star down the stretch. In fact, he gained a +3.5 PFF rating in the otherwise disappointing divisional loss to Indy. Davis could be a very good reserve linebacker, he will just have to compete with the plethora of young linebacking talent on the Broncos.
---
45: Tony Carter, Cornerback Carter has been a very solid reserve in his time in Denver, and could probably start at Nickle corner for many teams. There is not much to say about him that hasn't been said already. There is a chance he doesn't make this roster due to the young talent behind him. This is an excellent Denver secondary from top to bottom.
---
44: Darius Kilgo, Nose Tackle
If nothing else, Kilgo looks the part of a Wade Phillips nose. He is 6'2, 320, and strong. He benched 225 33 times at his pro day, which is impressive. He is also an underrated athlete, running a 5.13 forty, which is incredible for a man of his size. At Maryland, Kilgo was only asked to be a one dimensional run stuffer, but he'll need to become more balanced to operate in Phillips' 3-4. The talents there however, and he should rotate in from time to time this season.
---
43: Shelley Smith, Guard
Smith is nothing more than a journeyman in my eyes. He was a mediocre starter for the Dolphins last season, and I do not see the strength or footwork for him to be anything more than that in Denver. There are his supporters who say he'll do better in a ZBS, but I don't see more than a solid backup. Still, he should make the 53 as our second left guard.
---
42: Jeff Heuerman, Tight End
Okay, I'll admit it, this is cheating a little bit. Heuerman likely won't play a down in 2015, after tearing his ACL in minicamp. He is technically not on IR yet however, so I am including him on this list. I love the third round pick, and he will contribute down the road. I see him as an Owen Daniels type, who is a decent athlete with a knack for finding holes in zone coverage. He is also a better blocker than Daniels. He should be starting in 2016.
---
41: Ronnie Hillman, Runningback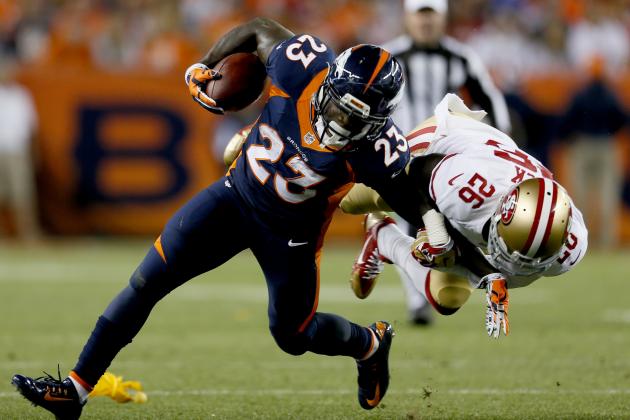 Hillman had an up and down 2015. He played very well for a stretch of the season, but then after struggling, he was replaced by C.J. Anderson. Anderson took his opportunity and exploded. Hillman will still make this roster however. I see Montee Ball taking a step forward, with Hillman playing third, or maybe even fourth back, but also making some big plays in change of pace situations.
---
Thanks for reading. I'll count down players 40-31 over the weekend at some point most likely.
In Elway we trust, go Broncos.