I finally completed my analysis of the Broncos roster and Nick's offseason plan, and I wanted to share my thoughts. Because I agree with Nick on much of what he wrote in his 2020 Offseason Road Map, I felt presenting an analysis of his plan was the best approach. Before I start, a tremendous thank you to Nick for writing such an excellent piece.
I started off by putting all his moves into Depth Chart Form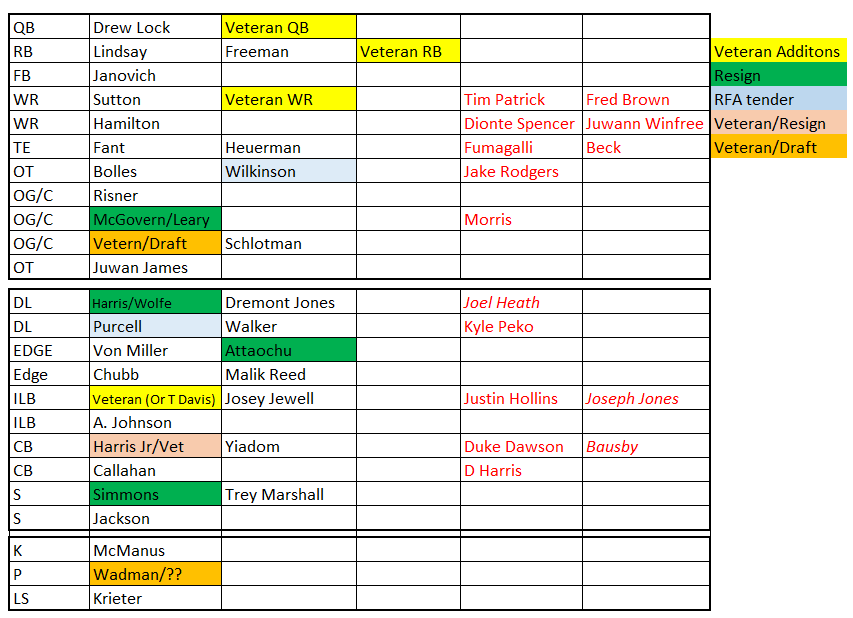 My thoughts, position by position
It's hard for me to get too excited about a veteran QB, and 7 million is a lot of cap space. I've spent a lot more time looking at the marginal starting QB landscape, so I have less of a feel for backup options, but I wouldn't be opposed to looking for something cheaper here. Someone like Siemian for $2 million seems fine to me
I also find it hard to get excited about a backup RB. I think RB is a position that makes a lot of sense to fill with players on rookie contracts. For a veteran, I would prefer if they tried to limit the amount of guaranteed money they paid someone, so they could move on if they like what they find in the draft or UDFA. We were blessed with minimal injuries at the position, but Booker played only 26 offensive snaps. He did play 45% of ST snaps, which is something you probably won't get with a veteran
WR is a tough one for me. I definitely see the benefit of adding a player as Nick suggests, but if the Broncos add a veteran and also take a WR high like many want to, the position gets crowded in a hurry. I think Sutton, Hamilton, the veteran WR, and the draft pick would all be locks to make the team. 1 of those 4 (at least) is probably not going to see much time on the field. On the backend, there would only be 1 or 2 roster spots left for Fred Brown, Tim Patrick, Dionte Spencer, and Juwann Winfree, and whatever other draft picks/UDFAs emerge. Fred Brown would probably be the first name fans would cross out, but he was the only player who contributed on Special Teams coverage units last year. For all these reasons, if the Broncos are as high on the WR draft class as other are, I would not be opposed for the Broncos to be picky at the veteran WR position, and ultimately pass if they can't find what they like
TE there isn't too much to write. This could be the position group we have no changes at, or it could be an option to target in mid-later rounds of the draft
OT is another tough one. Regarding Bolles, I will predict the Broncos do pick up the option, and I think that is the right call. The articles coming out from Broncos insiders defending him seem to be the team's way of signaling this. I think Bolles is likely the type of player who will respond positively to the vote of confidence from management (and who would respond poorly to a vote of no confidence) and PFF thinks highly of him and he has shown improvement. Holding penalties are frustrating, but they are less damaging than sacks. I wish I had data on this, but I feel the risk of the injury only guarantee coming into play is quite small. It's hard to know what to think about James after his rough 2019, but I think it's an instance where the team has a lot more information than we do. If he can't be counted on, that's a huge hit to the team, because it means the Broncos either have to try to find someone in free agency (which has not worked out well with Stephenson, Watson, and now James) and will be very expensive, or reach in the draft for an offensive tackle, or roll with Wilkinson again. Needless to say, my fingers are crossed for James
For the interior of the offensive line, I wasn't completely sure what Nick was suggesting for the third starter after Risner and either Leary/McGovern. Relying on Schlottman or Morris seems risky, but I am not opposed to trying to fill this spot with a rookie. This is an area I could see the Broncos wanting to spend more than Nick suggests to attempt to shore up the offensive line. Leary could also be a player they approach about a pay reduction. He'll be 31 and given his injury history, I'm not sure he'll get 8.5 million in free agency. Maybe go down to a 5 million dollar salary with the possibility to earn the difference back in return for guaranteeing 2-3 million? And while it would hurt their comp pick situation, maybe the Broncos wait and see how free agency and the draft go before deciding on Leary. Lots of options here
Defensive line depth I worry about for the Broncos. Especially if they bring Wolfe back rather than Shelby Harris due to his injury history. This is an area I think they'd need to focus on in the draft or consider an additional veteran backup. I also think there is a chance they bring back both Wolfe and Harris, especially if Wolfe is willing to take a team-friendly deal given his injury concerns.
I disagree with Nick and most others that the Broncos will/should bring back Jeremiah Attaochu. I think he is a good player, but if the Broncos draft an edge rusher in the early or middle rounds, Attachu will become expandable as the team will likely want to keep Reed especially when you consider the cost difference between the two. I think Attaochu and his agent will realize that, and either want a contract with some guaranteed money, or he'll want to move to a team where he'll have more roster security. 4 million also seems like a lot for the 4th edge rusher and especially when we are going to keep Von and Chubb on the field as much as possible.
I agree with Nick on ILB. They could bring Todd Davis back, but I like the opportunity to upgrade here
After resigning Simmons, I think Cornerback is the most important focus of the offseason. I love Chris Harris Jr, but his play did decline this year, and I wonder if the Broncos would be better looking elsewhere. As with Ja'wuan James, if Callahan comes back and can lock down the #2 CB position, it'll do so much to help the defense and team. If we lock down the #1 and #2 CB positions, I think the depth here looks good and someone will step up to fill the #3 CB position.
It seems like everyone agrees Simmons should be the number one priority. I think there is some chance Will Parks ends up coming back on a team-friendly deal. I believe he likes playing here and on this defense, I'm not sure he'd get a chance to start elsewhere, and the Broncos don't have much depth behind him if he leaves.
The Broncos signed Trevor Daniel, but I would still like them to draft a punter with a late pick. It seems to me that option has the most upside as rookie punters often come in and tear it up, would be the most cost-effective, and carries minimal risk given how many picks we have
If the Broncos don't sign Attaochu and get a QB for $2 million rather than $7 million, that saves $9 million in cap space compared to Nick's plan. No veteran WR or a cheaper WR has the potential to save up to an additional 10 million. No veteran RB or a cheaper option could also save 1-2.5 million as well. Options for using that additional cap space could include
Keeping Leary or adding another option on the offensive line (Nick did not account for an additional interior OL in his cap breakdown
Keeping both Wolfe and Harris or adding another depth piece on the Defensive Line
Going "over budget" on ILB or CB or any of the players they are hoping to resign
Rolled over for future years. With where they are in the development cycle, it might be smarter to give more young guys playing time and save cap space for future extensions and needs
Putting it all together my free agency priority list would be roughly as follows:
Resign Simmons
Cornerback (Chris Harris Jr or new #1)
Interior Offensive Line (McGovern, possible additional competition for guard position opposite )
Defensive Line (Wolfe/Harris, plus a possible depth signing)
Inside Linebacker
Veteran WR
Veteran QB
Veteran RB
A note on roster math
Going back up to the depth chart I started this piece off with, there's a total of 38 players in the first three columns. Those players I feel would all be very likely to make the final roster. The players to the right in red were players who played at least some in 2019 and I think people would say they all have at least a chance to make the roster. There are 15 players in those columns, although three are not currently under contract, but they showed some promise and I believe could be back (Joel Heath, Joseph Jones, and Bausby).
36 of the 38 players in the first three columns make the team
Nick's comp projections are right and the Broncos don't trade any of their picks
All 8 of their picks in the first 5 rounds make the team
1 UDFA or futures contract player who isn't on anyone's radar makes the team
That leaves only 8 spots left for the 6 6th/7th round draft picks, the 15 players in red above, or any free agent additions not accounted for by Nick (I took away 1-3 of his, but added a couple of my own, making this essentially a wash)
8 spots for those 21+ players are not great odds. My takeaways from this are
A good reminder that there's always high turnover on NFL rosters. There will be surprises. Players we believe should make the team aren't going to make the team
With all the draft capital the Broncos have, I believe we should not be afraid to trade up and prioritize quality over quantity. Another less fun option is to trade for capital in next years draft
I believe there's a chance the Broncos go less Free Agent heavy than either myself or Nick is suggesting. In addition to options discussed above, maybe they move on from Davis, but let Josey Jewell have a crack at the starting ILB spot. Maybe they don't add a veteran QB and roll with a rookie they draft or Rypien as a backup.