Introduction
I have watched some film of the Broncos past season along with the last four games of the San Diego offense and one game from the Miami Dolphins defense. Because of the big change in coaching staff from last year to this upcoming season, it's more important to note what the current coaching staff did last year then what the previous coaching staff did. This means we have to look at what Mike McCoy, Vance Joseph, and Joe Woods hold true.
Offense – Mike McCoy
You may know him as the coordinator who adapted to a QB who could throw the ball deep but ultimately, could not be successful as a traditional thrower. This QB also had an ironically unbelievable belief in himself to which he was unphased by the pressure of the situation no matter how terrible he was playing for the first three quarters on.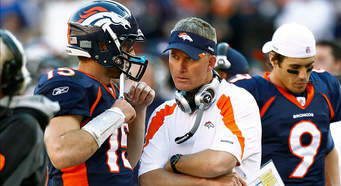 He also helped Kyle Orton post career high numbers under a Josh McDaniels-led staff in 2009. Then following the Tebow drama, helped Philip Rivers with the assistance of Ken Wisenhunt, Frank Reich, and Nick Sarianni to four 4,000 yard seasons with only one season in which he threw under thirty touchdowns.
This tells me two things about Mike McCoy's philosophy as a coordinator. Firstly, he believes coaches have to adapt to the players in order to succeed. Secondly, he does a great job keeping everything in his offense the same language and interchangeable so that he can make adjustments to defenses while also not overloading player's cognitive functions. This is what a good coach does, finds out what his players have the ability to know, and can concisely tell them what they need to accomplish. Then holds them accountable for the standard.
What is worth noting though is that he is a intellectual. He takes great pride in the knowledge that he has acquired and has put in a lot of work into the information that he accumulates. I guarantee you he researches, studies, and discusses concepts with other coaches a lot and wants to find different ways to get numbers and leverage so he always is up to date. Putting more emphasis on learning concepts can take away a coach's ability to communicate with players and relate to them on a personal but professional level. Which may explain why certain players don't respond to him as a head coach if they aren't accustomed to seeing him in meeting rooms throughout the week:
Joey Bosa – "We needed strong head coach to come in & make players take accountability for what they do, which there wasn't enough of last year. I feel like if we had a coach, nothing against Mike McCoy, I just don't think he had the voice to really get s–t."
While other players who did first-hand experience what kind of coach he was in the meeting room attest to him and his ability:
Philip Rivers – "Shoot, I thought Mike gave us a chance each and every week over the last four years. He was consistent, and guys played hard for him. And we just didn't win enough games, especially in the last couple years… That's the reality of this league we're in. Shoot, Mike's still a young coach that's got a lot of years left in this league and will continue to be a heck of a coach."
Coaches often can't excel in both because everyone is human. Bill Walsh was one of those coaches that could do both. He became one of the best innovators of offensive football and one of the best administrators in business to have ever lived while also doing a terrific job of focusing on the players. So much so that one of his books, Finding the Winning Edge, just got reprinted but before it did, the book could only be found at used book stores and online which cost anywhere from $200-$1,000 a copy. His books are followed like the Bible from the amateur levels all the way up to the NFL:
"Saying it was outstanding wouldn't do it justice. For a coach, it's a Bible," [Bill] Belichick said. "That book reinforced most of what I thought as a coach. I was glad to see Bill write it and say the things he did because a lot of it was either what I was trying to do or what I believed in. Between the book, the clinics, talking to Bill and picking things up from the (San Francisco) 49ers organization, there was certainly a confirmation in my mind that this is the way to do it."

[Pat] McDermott [Head Coach of Episcopal Academy] finished it in a month. Now he revisits it weekly. On this September Wednesday, he's worried that his players will become overconfident. Episcopal Academy is 3-0, outscoring opponents 134-0. Saturday night the Churchmen play Hill School, a rival they should smoke. McDermott is haunted by the specter of a meltdown. So what would Walsh do? McDermott turns to a section titled "An Extended Winning Streak." "Overconfidence can have disastrous consequences if your players feel that they … have already mastered the basic fundamentals."
One of the many things that I have observed from my time in the coaching world, there is a great divide between two types of coaches: Guys that coach the X's and O's or the Jimmies and Joes. Very seldom will you find coaches that split the divide and are on the fence even though you truly need both to win a championship. The aforementioned Bill Walsh was one of the few to recognize that on-the-record:
Bill Walsh: I see coaches and executives who have more similar skills today than ever before. When I was with the 49ers, I was both head coach and general manager, so my duties were more business oriented than those of a lot of NFL head coaches. Today's NFL is a very complex world, and great football knowledge alone won't get your team to the Super Bowl.
If I had to guess with the limited knowledge I know about Mike McCoy, he probably leans towards the X's and O's side of things. I am certain he also believes that being able to connect to the players is vitally important. If you lose the buy-in from the players, you are headed for a disappointing season. Period.
In addition, coaches that are intellectual typically have a calm demeanor like Mike McCoy. Part of being able to call the right plays is largely based in remaining calm in tense moments of the game so your emotions don't decide what play to call. This is more commonly known as thinking with your head, not your heart. That's why you see both Peyton and Eli not cheering during the game when they were watching each other, because they are trying to think through the different scenarios of how the game could play out, even when there is only two minutes to go in the fourth quarter. This promotes consistency within the organization and the team directly follows suit. Mike Shanahan, Bill Belichick, Norv Turner, and Todd Haley are other examples that come to mind. Under a seemingly emotionless mind is an intense thought process that goes on. And teams are much more stable because of it.
The coaches that have a different philosophy and are more energetic ran teams that were prone to fourth quarter meltdowns like Rex Ryan's Bills and Dan Quinn's Falcons both were. Even though their teams rode emotional highs during winning streaks, they were also just as likely to come back down to earth and go into funks that lasted just as long.
Design-wise, Mike McCoy's offense involves controlling the clock with high percentage passes and a running game. He likes pulling the guards and getting movement by the offensive line to manipulate linebackers. It's clear that he is willing to run power and counter, both concepts in which you get pullers, in the running game to get numbers to the ball. He wants to use the TE as another weapon in the passing game if he has it and will flex him out to get him mismatched on a LB.  He believes in creating mismatches. As stated before, his offensive systems are influenced heavily by the QB so you won't see Trevor Siemien throw lots of intermediate routes outside of the hash and you won't see Paxton Lynch throw a bunch of out routes to the sidelines (We call these "Omaha" routes and it wasn't because of Peyton Manning). The offense is going to be reliant on what we call "Triangle" concepts which are pass concepts designed to space the receivers out in a triangle to create space for the QB to throw the ball and get the defenders in conflict. Here are some examples: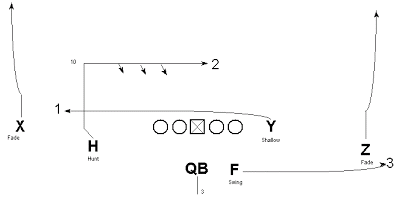 Draw a line from 1 to 2 to 3. Connect the dots. See the Triangle?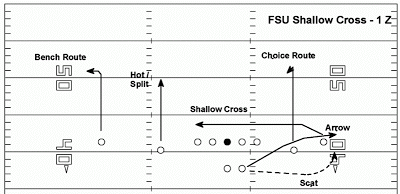 Draw a line from the Choice to Arrow to Shallow Cross. Connect the dots. See the Triangle?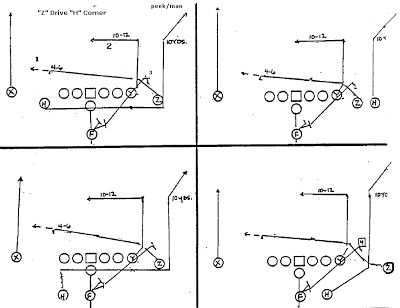 Draw a line from 1 to 2 to 3 in the upper left box. Connect the dots. See the Triangle?
Since the Broncos have three backs that can run the ball in Charles, Anderson, and Booker and they have a FB in Janovich that can be the lynch pin in their two-back game, expect a variety of runs with play-action and play-pass attached to them. I expect to see every wrinkle of play pass in the offense like Kubiak and Dennison had last year.
What I am really excited about are the man concepts that McCoy is going to bring in from San Diego. Man concepts are zone concepts that have man blocking attached to the backside of the play which allows runs to get better leverage. Instead of having to rely on the backside G and T to get up to the M, they can just stay on the first level and seal off the T and E while a Virgil Green-type can come through the opening in between the linemen and work his way up to the Mike. I believe these can help the Broncos get leverage on the backside of the play and it takes a lot of pressure off of the interior. But, you have to sacrifice your play pass because none of the other concepts look like it. But, it can be easily taught because all you have to do is teach the linemen how to count. Can you count to three? Yes? Okay, do your job.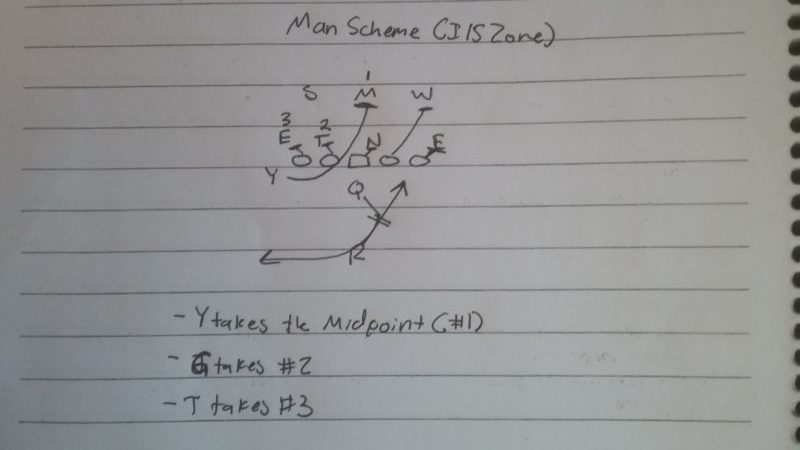 Always, always, always run the concepts to the Nose so the G has a free release to the backer.
Defense – Joe Woods / Vance Joseph
Joe Woods is a different case. He is a first-time defensive coordinator with a former defensive coordinator presiding over him as a head coach (Vance Joseph). Which means that he likely won't be granted a lot of autonomy in implementing his defense and will butt heads with Vance Joseph weekly during the season. In addition, he is likely to be indecisive because he is unfamiliar with the position. Meaning that he will make his share of mistakes when it comes to big-picture decisions. This is to be expected from someone who is being inserted into a large-responsibility position at the most competitive level of their profession.
It's reasonable to assume that he wouldn't try to fix a ship that is already sailing. I am 95% certain that the Broncos will continue to be a man-coverage team that operates out of a 3-down front and operates at angles to reduce the offense's chance of getting a two-way go on defenders. They will still be simple which will allow them to play incredibly fast on the field like we have seen out of them the past couple of years under Wade Phillips.
What is encouraging though is Woods has been a defensive back coach since 1994. Meaning that the defensive scheme and coverage will be thought of in the perspective of using the front to protect the coverage. On top of that, Vance Joseph has only been a defensive backs coach regardless of the level he has coached at. The coverage will be the first-most thought in the design of the defense. Thinking about all of the above and considering the Broncos won't have any losses to the back end of the defense means the Broncos will likely have the best-ranked pass defense in the NFL again for the third time in a row.
Problem is, the front won't have any voices in the room besides Bill Kollar and Reggie Herring. Those two will need to make sure their voices are heard in meetings to make sure that the front is still being considered. I have a feeling that the front is going to get tossed away to the wayside by the nature of the room and they are going to have some numbers and leverage issues in the running game. The fronts are still going to be simple, I just don't know if they're going to be able to play as one unit like they did a couple of years ago. They regressed last season, it wouldn't be surprising to me if they regressed this season as well.
I also think that the talent they have drafted for this side of the ball really needs to start producing this upcoming year. This includes Shane Ray, Adam Gotsis, and Justin Simmons. Ray in particular because they need a guy to replace Demarcus Ware's impact and production. Only time will tell.
On Another Note:
Thanks for taking the time to read and sift through this and I hope you are having a pleasant day wherever you are at.