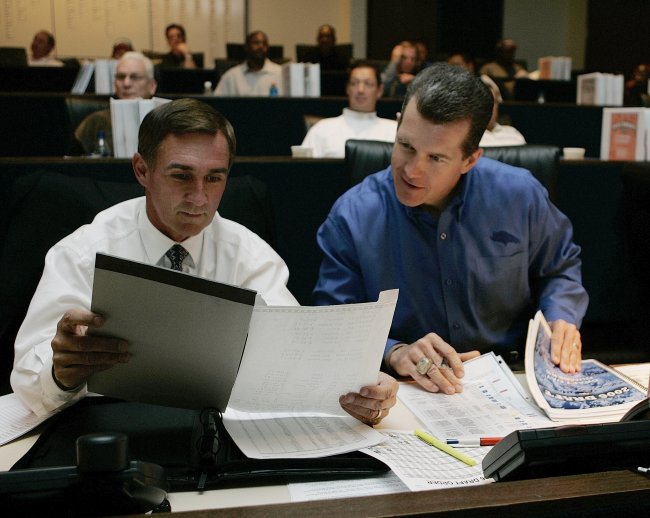 For those of you who are not regular Bleacher Report readers, (trust me, I don't blame you) Ted Sunquist, former Broncos GM, wrote an interesting article for them today. The Cut Man: Life as the Bearer of Bad News in the NFL, chronicles the hardest part of being an NFL GM: cutting players. It is particularly interesting, seeing as, although many articles have been written about roster cuts from a player's perspective, this is the first one I've seen from a cutter's perspective. Here's an excerpt:
The Turk is the NFL's equivalent of the Grim Reaper, the skeletal figure of mythology who comes draped in a black cloak and carrying a scythe to collect those summoned…to death. Only in football, death's personification comes in the form of a twentysomething dressed in workout shorts and a team t-shirt. "Ted wants to see you, and don't forget to bring your playbook."

[…]

Every player I ever signed to an 80-man roster was signed with a vision of filling a hole at starting left tackle, backing up at wide receiver, making a contribution on special teams. If you can't find this picture in your mind's eye as a GM, then what's the point? There was no roster-filler. My responsibility was to ensure that the club was identifying, evaluating and procuring the very best available talent to make the final 53. That included spending a lot of time, money and effort finding these players and convincing them Denver was the right place to continue their careers.

[…]

I recall a rookie who asked me why we bothered to sign him in the first place if we were just going to cut him. Taken late in the draft, there really wasn't a need at the position, but not wanting to get into a bidding war with any potential suitors, the staff decided it would be best just to spend the pick and be done with it. The rookie had a point, arguing he could have signed as a free agent elsewhere on a team that had a need, where he could have legitimately competed. But the draft isn't so accommodating to the wants or needs of the player—only to those of the club. And the club no longer wanted or needed him.

Second- and third-year players have been coarsened. Called up for the pink slip in the past, the process has hardened them to the reality of what professional football is. These players, by and large, were the angry ones, not knowing what to do next and cynical to the overall outcome. You could tell that many were beginning to ask themselves if it was all really worth it. Tension was high, fists clenched, muffled expletives as the checklist was wadded up and thrown across the room. "I outplayed my competition! I was injured most of camp! I never got enough reps!"
He also included an anecdote about his own firing, flipping the script:
But this time the table wasn't round, and it wasn't the general manager sitting on the other side. It was the Executive Vice President of Football Operations, and it wasn't a rookie or veteran journeyman on the hot seat.

This time it was my turn.

"We're letting you go."

A complete feeling of numbness besieged me at the shock of being cut. I had never really failed on a personal level in my some 20-plus years of college and professional football. There was the blown ACL my sophomore year at the Air Force Academy and finishing up just short of a promotion in a couple of outside interviews, but Denver was always there to fall back to. Something told me I wasn't going to get invited back to the personnel department's practice squad.

Anger replaced the disbelief that the team I'd devoted much of my adult life to would summarily dismiss me for reasons I felt were unjustified, if not outright bogus. Football instincts pushed me to jump across the table and lay out my opponent in similar fashion, just as I'd attacked provocations on the field in the past. But this wasn't the same scenario as when I had donned a helmet and shoulder pads in my younger years.
It's a great read, although a fairly long one. Sundquist made his fair share of questionable moves in his time as GM, but he is a good writer who provides an interesting view into an NFL front office.