Hello Broncos Fans!
Going into training camp, this Broncos team has a lot of new, unfamiliar faces on the roster. In order to help the average fan get acquainted with the layout of the roster, I am ranking the Broncos 90 man roster pre-training camp. Keep in mind, that IR players (ahem, Ryan Clady) will not be included on this list. If you have any disagreements with my rankings, let me know.
Today I will be ranking players 60-51. These are the fringe guys, who are in roster purgatory, and could go either way. This is the roster bubble.
---
60: Chris Clark, Tackle
Yes, I may be lower on Clark than some among you. The veteran tackle scored a -6.8 overall on PFF though. When he is on the field he has never seemed to be more than a liability. He is weak with poor technique, and isn't the type of Tackle a Super Bowl team is starting. He's a decent backup, but is on the roster bubble in my eyes and needs a good camp.
---
59: Kenny Anunike, End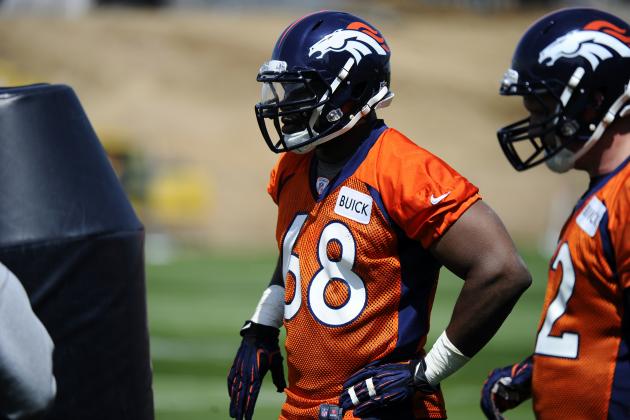 A UDFA from last year, Anunike is one of my favorite young players on the roster. At 6-4, 290 of good weight, he is the ideal size for a quality 3-4 end. He has drawn rave reviews in camp, and came on strong in preseason before landing on the IR. He's a lock for the practice squad, and could even make the 53, especially if Smith doesn't play in 2015.
---
58: Isiah Burse, Kick Returner
The speedy returner was a solid, if not spectacular kick returner after making the 53 last year. He was then cut mid season and put on the practice squad. He will be one of the guys competing for that kick returner spot, and that's likely his only way to make this roster. He has not flashed receiving skills to this point.
---
57: Lorenzo Doss, Cornerback
The Broncos 2015 fifth rounder does a lot of things well. He's 5'10, and runs a 4.47 forty. He obviously was an excellent player at Tulane. Really good in man, and fell later in the draft than he should've because of his height. It says a lot about the depth of our secondary when a 5th round pick is no lock to make this roster.
---
56: Marvin Austin
Austin is actually a really good fit for Phillips' 3-4. He is big and agile, and should be a fine rotational Nose. Still, if Darius Kilgo and one of the fringe ends play well, Denver may decide to go 5 ends and 2 tackles on the 53. Vance can slide over when need be. This would push Austin off of the roster. His injury history is not helping.
---
55: Josh Furman, Safety
Josh Furman was an absolute steal. The 7th round safety out of Oklahoma State tests great. He has ideal size for a ballhawk at 6'2, 200, and ran a 4.45 forty at his pro day. He's a hard hitter, and can combine with T.J. Ward to give us an aggressive secondary. He has a lot of work to do in coverage, but I see an aggressive 3rd safety who will take over for either T.J. or Stewart, whichever leaves town first.
---
54: Brandon McManus, Kicker
If this were a list of legs, McManus would be number one going away with it. Unfortunately, the accuracy just isn't there, even on routine kicks. If he can learn to make field goals, he can continue kicking off and take Connor Barth's job. If not, he won't make this roster, we aren't keeping 3 kickers again. Hopefully he makes it, I have to pull for the Philly kid from Towamencin, and then Temple.
---
53: Jeremy Stewart, Runningback
Stewart was a late season addition last year, and hardly played. He is a one cut runner with decent burst and strength. He reminds me of a poor man's Knowshon Moreno. With the guys in front of him, I don't see him making this team.
---
52: Reggie Walker, Linebacker
Reggie Walker, or the Charger who ripped off Montee Ball's helmet last year as he's more commonly known, isn't a spectacular free agent addition. He's a decent athlete who has been a good depth player and special teams player in San Diego. We need linebacker depth, so hopefully he can fill that role in Denver.
---
51: Andre Caldwell, Wide Receiver
It's not that Andre Caldwell's bad. He's not. The speedster from Cincy is a reliable pro. He has just been extremely unproductive and I was annoyed by how long it took him to give Oz his number. Bubba isn't getting any younger, so hopefully Jordan Norwood or one of the UDFAs can take his spot.
Thanks for reading. The next addition will be in tomorrow, and then I'll be taking a break until Monday probably.
In Elway we trust, go Broncos!