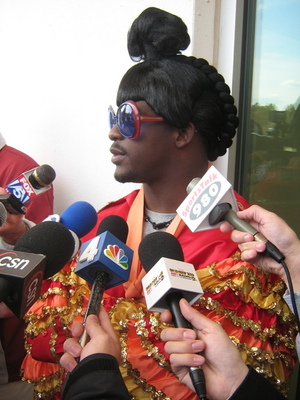 According to Timothy Burke of Deadspin.com, Clinton Portis owes a lot of people a lot of money.
Court filings unearthed this week reveal that banks, the IRS, and a casino are lining up to collect from former star NFL running back Clinton Portis. Even worse, it looks like the bank is trying to foreclose on the house Portis bought for his mother in 2004.

Just last week, the bank holding the note to a home in Alachua County, Fla.—where Portis starred at Gainesville High School—continued its year-long quest to repossess the property whose deed is held by Portis and his mother, Rhonnel Hearn. That prompted a search into Portis's other legal troubles, which include:

The IRS claiming he owes nearly $500,000 in back taxes.
MGM Grand Casino in Las Vegas winning default judgment in the amount of $287,178.56.
A dealer seeking $157,290 in payments on an Audi S5.
Foreclosure proceedings on a $512,000 mortgage for a Miami condo.
Settlement to avoid possible foreclosure on a property in Coffee County, Ala.
A $20,000 lawsuit from a condo association over assessment money.
Portis was a standout in Denver for his brief Broncos' career, racking up 3,099 yards and 29 touchdowns in only 2 years in Mile High. While he injuries slowed him down a bit in D.C., he did land us Champ Bailey. Not to mention that those are unbelievable 2 year numbers for a rookie and sophomore season. He also made plays like this:
Portis is just one of a long line of NFL players to go completely broke. It's always sad to see it happen.