Happy Day Before Draft Day, Broncos fans! As promised, here again is your opportunity to enter a 1st round mock draft for the chance to win… still nothing, just like last year.
Last year's contest was won by InSiemianWeTrust with 81 points. Yahmule finished a strong second with 80 points, and RoyalWithCheese came in third with 79. It doesn't get much tighter than that. Here's a screenshot of the final tally: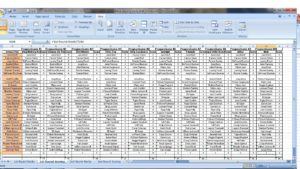 These mock drafts really are a good time. Much like fantasy football or NCAA tourney brackets, they give you a rooting interest in the Draft. All of a sudden you'll find yourself caring about who the Tennessee Titans and the Tampa Bay Buccaneers draft, and shouting "THAT'S RIGHT, KIPER!" and "YOU DON'T KNOW SHIT, TODD!" at your television, and any loved ones who share your home will no longer have any doubt that you've lost your damn mind.
Now that we've established the stakes, let's get into the rules. I'll give you until 3:00 pm MDT tomorrow (Thursday April 27) to enter your mock into the comments below this post. You don't need a lot of detail. Just list the names, 1-32, so I can copy and paste them into my scoring spreadsheet. I realize we can all edit posts, but I'm copying and pasting at 3 o'clock, so any sly maneuvers to beef up your picks after the fact will be in vain. Please don't use ALL CAPS as it does not agree with the formula cells in the scoring spreadsheet. I'm looking at you, RSH, esq.
Points will be awarded as follows:
Correct pick (Player in precise slot where he is selected) – 8 points
Off by 1 slot, early or late – 4 points
Off by 2 slots, early or late – 2 points
Off by 3 slots, early or late – 1 point
Trades will not effect the scoring as points are awarded based on draft slot. For instance, if you have Mitch Trubiski going #12 to the Browns, and the Browns trade out of the pick, but the team trading in still selects Trubiski, you still get 8 points. You've assigned Trubiski to the 12 slot, and it doesn't matter which team takes him there. Make sense?
The draft order is as follows:
1. Cleveland Browns
2. San Francisco 49ers
3. Chicago Bears
4. Jacksonville Jaguars
5. Tennessee Titans (from Los Angeles Rams)
6. New York Jets
7. Los Angeles Chargers
8. Carolina Panthers
9. Cincinnati Bengals
10. Buffalo Bills
11. New Orleans Saints
12. Cleveland Browns (from Philadelphia Eagles)
13. Arizona Cardinals
14. Philadelphia Eagles (from Minnesota Vikings)
15. Indianapolis Colts
16. Baltimore Ravens
17. Washington Redskins
18. Tennessee Titans
19. Tampa Bay Buccaneers
20. Denver Broncos
21. Detroit Lions
22. Miami Dolphins
23. New York Giants
24. Oakland Raiders
25. Houston Texans
26. Seattle Seahawks
27. Kansas City Chiefs
28. Dallas Cowboys
29. Green Bay Packers
30. Pittsburgh Steelers
31. Atlanta Falcons
32. New Orleans Saints (from Patriots)
For your reference, here's an article on team needs according to NFL.com's Lance Zierlein. Also, here's some links to the most recent mocks from NFL.com. Of course you can reference any other sources you wish, but that's all you're getting from me. And before anyone calls me out on it, yes, I totally Rick Reilly-ed this thing by plagiarizing my own post from last year for this contest.
Good luck, and Go Broncos.