(For a bit of nostalgia, this is what I wrote about 50 weeks ago)
Denver 24, Carolina 10  –  At the end of the 1st quarter, it was Denver 10, Carolina 0.  At the half it was Denver 13, Carolina 7.  After the third, it was Denver 16, Carolina 7.  Midway through the 4th it was Denver 16, Carolina 10.  You know the final score.  So, as predicted, Denver won going away.
Neither QB threw a TD pass.  Both threw one INT.  Newton was sacked 6 times (Ted Ginn was sacked once- the 7 sacks tied the SB record, with the 85 Chicago Bears).  Manning was sacked 5 times.  Manning threw a pass for a two point conversion for the final score in the game.
The only two offensive TDs were on short running plays, by Jonathan Stewart, who leaped over, and CJ Anderson, who burrowed under.  The other TD was a fumble recovery by Malik Jackson who recovered in the end zone after Von Miller stripped the ball from Cam Newton.
The game was played by the number 1 offense (Carolina) and the number 1 defense (Denver), and a good Carolina defense against a mediocre Denver offense.  The story of the game was that Denver's defense was far superior to Carolina's offense, and the Bronco offense did just enough against the Carolina defense.
Some highlights:
http://www.denverbroncos.com/multimedia/videos/Sound-FX-Broncos-clinch-SB-victory-in-the-fourth/61e3a4bb-9447-42e4-a018-eb34784bfb03
For a close up of how it goes on the field sometimes:  (hit the audio)
https://www.instagram.com/p/BBhtiEHCMaw/
The only good commercial I noticed was this:
http://video.news.com.au/v/432351/Super-Bowl-50-Budweiser-Simply-Put-Ad
And for a scientific look at the SB:
http://www.nbc.com/saturday-night-live/video/weekend-update-von-miller/2985367?onid=148621#vc148621=2
Finally,  this kind of sums up the game: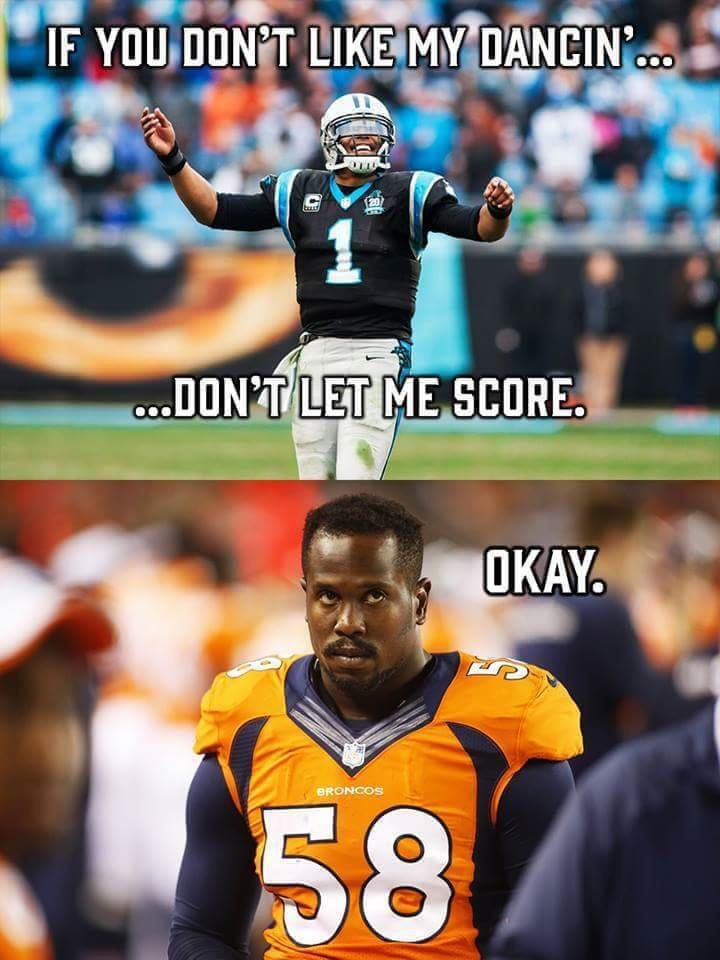 Anyway, now that football season is over, we can finally get back to wishing it was football season.